include ('top.php') ;?>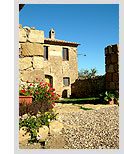 Situated in the stupendous hills of the province of Siena, at a height of 650 m above sea level, Agriturismo Pianoia is conveniently and tranquilly nestled between the districts of Pienza (Monticchiello) and Montepulciano, immersed in the Natural, Artistic and Cultural Park of the Val d'Orcia, classified a UNESCO World Heritage Site.

Agriturismo Pianoia, a country stone farmhouse dating back to the 1700's, is one of the oldest to be found in the District of Pienza. Discerningly restored, conserving the original courtyard wall and respecting the characteristics of its time, Agriturismo Pianoia is surrounded by 360° of immeasurable natural beauty and cultural heritage.




Feast your eyes on landscape typical to the area and unique in the world, such as the famous Sienese Cretes and the rolling hills of the Val d'Orcia, a UNESCO World Heritage Site since 2004 and tantalise your taste-buds with possibly the world's best cuisine, savouring the moment with some of the world's finest red wines, including Brunello of Montalcino or Vino Nobile of Montepulciano.

Agriturismo Pianoia is an ideal position to easily reach the numerous historical, cultural, artistic and natural attractions in the area, including: Pienza, Montepulciano, San Quirico d'Orcia, Bagno Vignoni, Montalcino, Chianciano Terme, Monte Amiata, San Casciano dei Bagni, Siena, to mention but a few.

Agriturismo Pianoia also provides an idyllic opportunity to leave the stress of frenetic modern day living behind and indulge yourself in untainted relaxation and well-being. Whether your way to unwind is walking along gentle, winding paths, horse-riding or mountain biking through exhilarating and revitalising scenery, soaking your cares away in a thermal hot tub or simply surrendering to the embrace of mud packs and masseurs; the possibilities are endless with the ample selection of thermal spas in close proximity, including the Terme Sensoriali di Chianciano Terme, Terme di Montepulciano, Terme di Bagno Vignoni, Terme Fonteverde di San Casciano dei Bagni, Terme dei Bagni di San Filippo, Rapolano Terme.

include ('down.php') ;?>